---
Try holding as still as you possibly can. No matter how much you're not moving, there are tons of things inside you that are! Your body is always on the go go go, even when you're sound asleep. From your beating heart, to your firing neurons, to your moving muscles, to your expanding and contracting lungs, you're in constant motion all the time.
Let's take a look at five things in constant motion! Follow along in the video to see them in action.
---
1. Arteries and Veins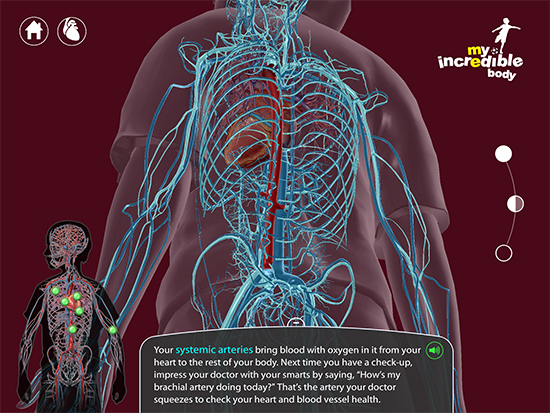 Your body is full of a complicated network of arteries and veins that bring blood from and to the heart. They look a bit like streets on a map, don't they? The red streets are arteries, which carry blood that is full of oxygen to every part of your body. Your organs, muscles, and tissues all need oxygen and blood to stay healthy. Once your organs and tissues have taken all the oxygen from the blood, the blue streets—veins—carry it back to the heart, which pushes it to the lungs so it can be shot full of oxygen again. Once the blood is oxygen-rich, the heart pumps it back out through the arteries, and the cycle begins again!
2. The Ear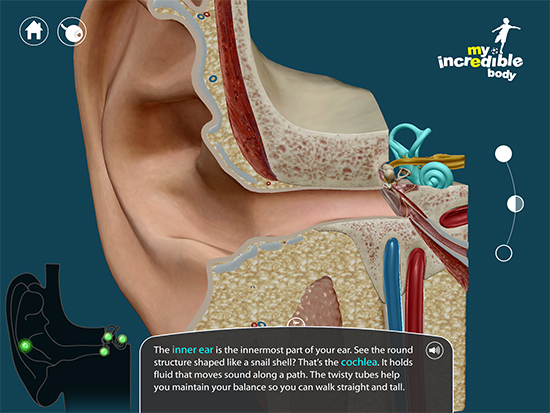 Do you hear what I hear? Your ears are constantly picking up sounds from the world around you. While you may think of your ear as being one whole structure, it's actually three sections that all work together. The three sections pass vibrations from the air through your ear to special nerves, which then transmit the vibrations to your brain for interpretation. Your brain can tell one specific vibration from another, which is why you know the difference between the honking of a car and the honking of a flock of geese!
3. Moving Muscles
Your muscles operate throughout your body, working with bones, tissues, and even other muscles to keep you stable and strong. Are you still trying to stay as still as possible? Guess what: your muscles are still moving! Certain muscles, like the ones that help you breathe, never stop, even when the rest of you does. You have over 600 muscles in your body and they make up about half of your body weight.
4. The Pupil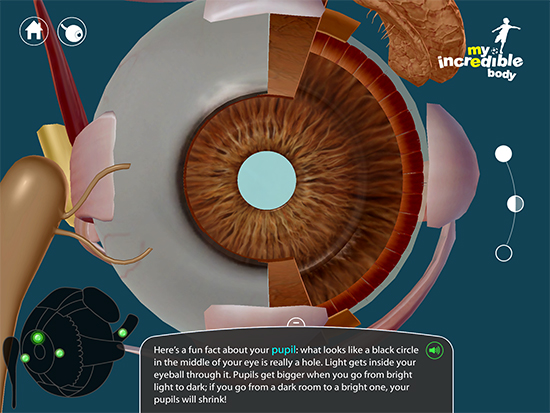 While standing in a bright room, stare at your reflection in a mirror. Now, shut off the light. Wait a moment, then—making sure you're still looking in the mirror—turn the light back on. See how your pupil shrinks?
The iris (the colored part of your eye) is a special kind of muscle that is attached to the pupil and pulls it open or closed depending on how much light should come through. When you flicked the lights back on and your pupil shrank, your iris pulled it shut to allow a small amount of light into your eye. As you adjusted to the sudden burst of light, your iris pulled it open slowly until it was nice and wide, letting as much light in as needed.
5. The Small Intestine
Sometimes your tummy rumbles when you're not hungry. Your digestive system is active, even when you're not actively eating. The small intestine is made up of smooth muscle (the kind of muscle that makes up the stomach, bladder, reproductive systems, and other structures), and its walls are always moving.
When your body is digesting food, the stomach turns the food into liquid and sends it into the small intestine. The small intestine's job is to separate nutrients from the liquid that are eventually sent to the rest of your body by your blood.
---
The images and most of the text comes from My Incredible Body: Amazing anatomy just for kids.
Want to see more content? Download our free resources, including eBooks.
Ready to buy the app? It is available for iPhone and iPad, PC or Mac Download, Android devices, and Windows Touch devices!